Doll Services takes a comprehensive approach to fulfilling your needs. We go beyond installing reliable, high-quality products and providing affordable services – we build a meaningful partnership with you. At Doll Services, every project we tackle is handled with the same drive for excellence and level of customer satisfaction as the next.
Benchmark/Trending
In today's competitive market, it's essential for organizations to commit to sustainability, ongoing growth initiatives, and reduce operating costs and protect margins in a shrinking economy. Demands are continuing to be made – do more with less – less time, less money and fewer people.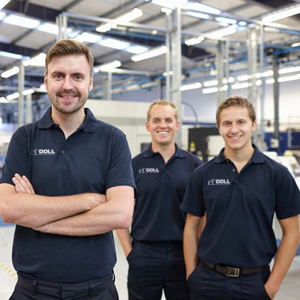 At Doll Services, we have created a detailed, time-tested benchmarking process that identifies inefficiency and ineffectual spending. Bottom line, we help you become streamlined in your day-to-day operations which ultimately helps you save money and resources as well as positively impact your bottom line.
Servant Leadership
At Doll, SERVING is a key foundational principle which lies at the core of everything we do and every decision we make. We focus on serving our stakeholders: team members, clients' and the community alike. It is our goal to make sure the highest priority needs are being served and do only do those things which are in the best interests of others.
Integrity
We believe mutual success is based on trust and honesty. We believe in doing the right thing in a reliable way. That's why we honor our word with customers, suppliers, partners, and fellow team members. We constantly strive to uphold our reputation of treating people fairly, honestly, ethically, and with dignity.
Safety
At Doll Services, attention to detail is not only a crucial element to keeping our team safe, but is also key to maintaining our superior caliber of work. Doll Services consistently leverages our focus on detail to protect our most valuable asset – our people– and your most valuable assets – your property and people. It is our guarantee that safety will never be compromised by schedule or cost.
Technical Competence/Expertise
The hallmark of Doll Services' strategies, designs, and workmanship is unparalleled quality. Our staff works in a collaborative team environment to foster their skills, talents, and insights for your benefit. We require all of our employees to supplement their years of expertise with essential certifications and our team constantly pursues new technologies and improved methods. The result is more efficient and effective solutions for you.
Caring Client Relationships
Doll Services believes that genuine concern and empathy help create a vibrant work environment and nurture lasting customer relationships. Sincere concern for the well being of others motivates us to do the right thing and go the extra mile for you. We focus on creating strong relationships that foster teamwork and drive us to build value for our customers.
Quality/Continuous Improvement
At Doll Services, we share a common passion for continuously finding more productive and successful ways to provide solutions to our customers and to improve the way we operate internally. Constant improvement is a tightly integrated component for our daily operations.
Our Team
At Doll Services, we are convinced people are our most valuable asset. Our team members are like an extension of our family. Our team delivers a caliber of service that is unparalleled in the industry. We maintain a culture of continuous improvement that encourages the expansion of our team's skill and knowledge-base. Each individual on our staff seeks certification and training beyond typical industry requirements and strives to bring efficiency and effectiveness to every project designed, built and/or maintained.