Chillers
We can install and service all major types of chillers for any building function. Furthermore, reliable maintenance of your chiller system will extend its life and energy efficiency.
From small specialty process or medical chillers through total building chilled water systems, we have the experience to select, install and service your system.
Boilers
Doll Services works with all makes and models of boiler systems and can assess your boiler system's efficiency and operational longevity. Technology, load analysis and boiler application techniques have changed rapidly over the past several years.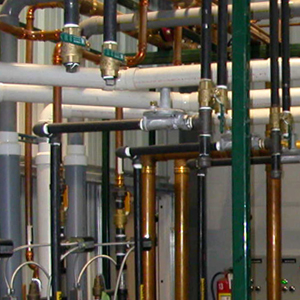 We can assess your specific building, use pattern, energy consumption and based on this data, recommend changes that will improve system performance and reliability. To get more out of your boiler system, contact the experts at Doll Services.
Piping
Process piping circulates tempered water throughout your building and keeps your building warm in the winter and cool in the summer. Our team will strive to identify the least expensive installation techniques and materials for your application.
Contact Doll Services for customized HVAC maintenance, design-build, and service packages for your boiler and chiller systems. Working with your budget, we will find a solution suited specifically to your business needs.